Industries
Transport
Retail and manufacturing
Services
Brand strategy
Marketing websites
Allied Petroleum came to us with a request of revitalising their digital presence for future growth. Key challenges included representing the Allied Petroleum brand, and capturing more leads across their range of fuel solutions. During the website project, we completed a brand audit, and came to the recommendation of investing in developing new brand messaging that better helps to position them in market. We landed on the proposition of 'fuel solutions to keep you moving', which has since gone on to be adopted in other marketing and communication.
We balanced the need for a strong brand presence alongside SEO growth requirements through:
A clean and attractive design that won't easily date.

A video for the homepage which is cut down into a smaller version, alongside a "play video" feature so users can get the full story "on demand".

Ensuring that key pages including the solutions page incorporate messaging that reinforces their key differentiators.
As a leading supplier of bulk fuel solutions nationwide, Allied Petroleum needed a website that could help to showcase its position in market and offering across several industries. Our planning process included an up-front workshop to better understand established customer personas and their needs for the website. Following the workshop, we developed an initial planning process including setting some traffic and lead KPIS to help guide performance of the website moving forwards.
Key challenge brand positioning and design
Allied Petroleum has a couple of USPs that their competitors simply can't claim, most significantly is a sense of a nationwide total bulk fuel solution. By working alongside their internal marketing team we established fresh brand messaging that helped capture that differentiation.

Through the website design, we also have made use of video content to help convey their scale and full solution.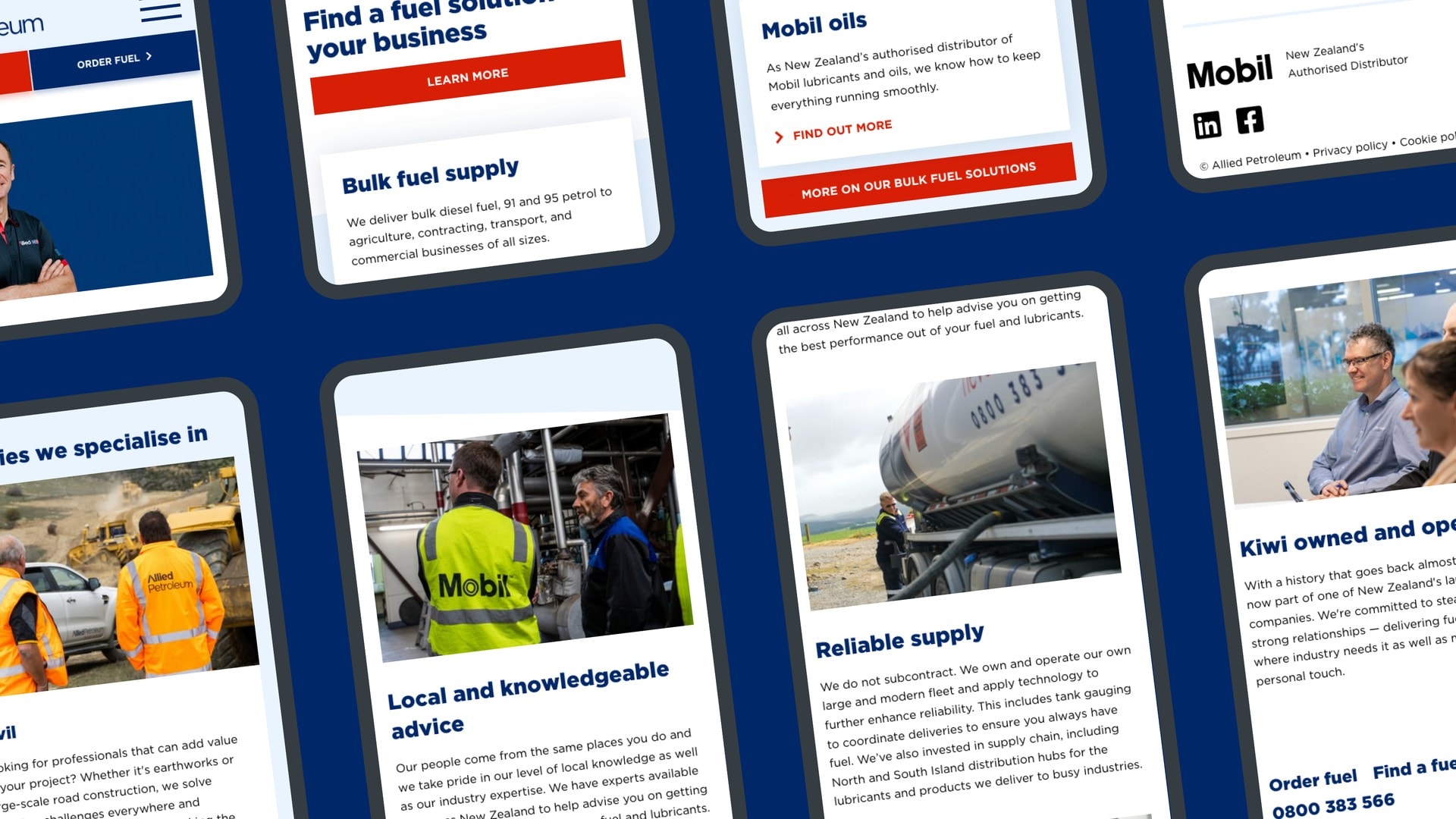 Injecting the full solution into the user experience
One challenge is customers are often tunnel-visioned on their own specific service need, and we wanted to build in opportunities to showcase the full solution available to them:
Clear pathways to different services from homepage and main navigation.

Presenting the full solution suite across 'supply', 'storage' and 'network' on the solutions page.

Industry pages can be used to communicate a specific range of services for each industry. Industries largely use the same services, but in some case a particular service may be more relevant, e.g. "on site fuel".
Lead capture
Generating new customer opportunities is a big focus of this website. Different audiences have different needs so we had to make sure all bases were covered. We focused on:
Cleaning up conversion pathways for new customers and existing customers ordering fuel through the website. Page and form designs were significantly improved.

Asking questions that can help validate the size of the client (annual fuel usage).

Connected appropriate forms to CRM.

Incorporating a chatbot that helps with the lead qualification process (is a visitor looking for help on a solution or have a particular challenge they are looking for support around).